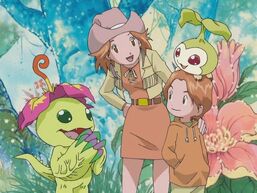 Mimi has been described as a "girly girl"—spoiled, ditzy, vain, and prissy girl who complains a lot, but also is sensitive, artsy, sweet and caring. She often talks of shopping and fashion. Mimi is also known to be infantile, and innocent. She is partnered to Palmon and is the bearer of the Crest of Sincerity.
Mimi becomes a very famous, well loved and beautiful chef who has her own cooking show (she becomes a nutritionist in the original Japanese) that is broadcast worldwide. Palmon likes to help Mimi on her show but she tends to be quite clumsy. Mimi also has a son who looks a lot like her. Her son's Digimon partner is a Tanemon. Although it appears that she is married, to whom she is married is never mentioned or hinted upon. Her apprentice is Lazlo.
Palmon
Togemon
Lillymon
The Crest of Sincerity
Apprentice(s)
Edit
Ad blocker interference detected!
Wikia is a free-to-use site that makes money from advertising. We have a modified experience for viewers using ad blockers

Wikia is not accessible if you've made further modifications. Remove the custom ad blocker rule(s) and the page will load as expected.