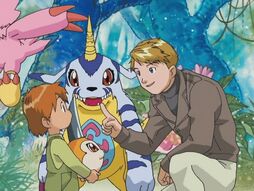 Matt, one of the original DigiDestined, starts out as a secretive loner whose Digimon partner is Gabumon. His younger brother, Takeru "T.K." Takaishi, is also one of the eight DigiDestined, but their parents are divorced and so they cannot spend much time together. He is very protective of T.K., and often acts harshly when T.K. is in trouble. Matt is the bearer of the Crest of Friendship. Matt was good friends with the group leader Tai Kamiya, as well as his rival, leading to a significant internal conflict throughout the journey, mainly over whether or not Tai is a better older brother to T.K. or leader than he was. Matt is much more protective and concerned about the group as a whole, causing more conflict when compared to Tai's headstrong strategy.
Matt has become an astronaut, and he and Gabumon became the first human and Digimon to land on Mars though they were really supposed to land on the Moon. He has married Sora, and the two are parents of a daughter with a Yokomon and a son with a Tsunomon. His son shares Sora's hair color, while his daughter has his hair color and original hairstyle. His is the mentor of Raven Queen.
Gabumon
Garurumon
WereGarurumon
MetalGarurumon
The Crest of Friendship
Apprentice(s)
Edit
Ad blocker interference detected!
Wikia is a free-to-use site that makes money from advertising. We have a modified experience for viewers using ad blockers

Wikia is not accessible if you've made further modifications. Remove the custom ad blocker rule(s) and the page will load as expected.