Kari is the younger sister of Taichi "Tai" Kamiya. Kari is partnered with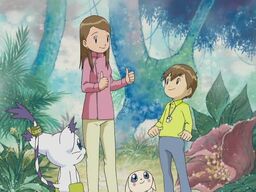 Gatomon, and embodies the trait of Crest of Light. Kari, by nature, is kind and sweet-hearted, always looking for the best in people, and avoids fighting them when possible. Still, she can be serious, especially in drastic situations.
Kari became a kindergarten teacher that actually likes being in school and has a son, who has a Salamon as a digimon partner, and also seemingly inherited his mother's whistle. She became Diana's mentor after Kazemon teamed up with the next Digi-Destined team.
Gatomon
Angewomon
Nerfertimon
Crest and Digi-Egg
Edit
The Crest and Digi-Egg of Light
Apprentice(s)
Edit
Ad blocker interference detected!
Wikia is a free-to-use site that makes money from advertising. We have a modified experience for viewers using ad blockers

Wikia is not accessible if you've made further modifications. Remove the custom ad blocker rule(s) and the page will load as expected.